4 Days and 3 Nights summit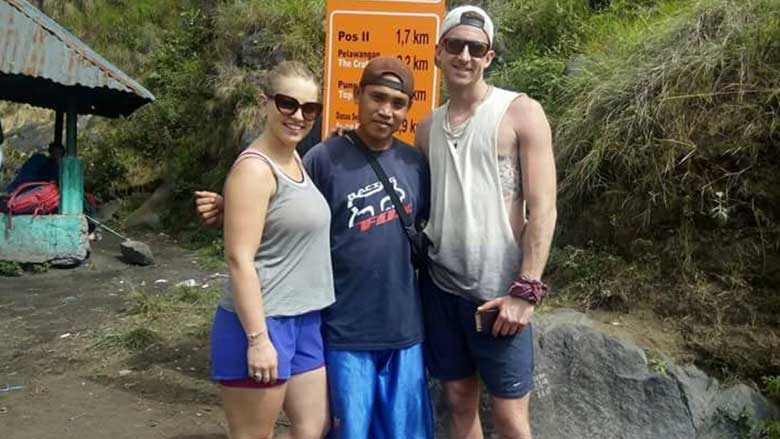 Itinerary: This trek start from Senaru Village and ending in Sembalun Village (Senaru Village – Senaru Crater Rim – Lake – Hot Spring – Sembalun Crater Rim – Summit – Sembalun Village)
Day 0
When you arrive at Lombok, no matter if it's at the airport or by boat, our staff will come and pick you up and transfer you to our hotel and office in Senaru. Once you arrive in Senaru, you will meet our staff to complete your registration and do a short briefing with your guide. You will learn about the trekking procedure and get prepared for the trip. Arriving at the latest 1 hour before sunset, you can go see the Sindang Gile and Tiu Kelap Waterfall. Note: you can arrive the same day as the trekking. But we recommend you to come the day before and spend the night so there will be no delays.
Day 1
Once you rise at the hotel, our guide will be there to pick you up in the lobby at 6:30 am and take you to the Rinjani Information Center (RIC) in Senaru (601 m), for registration, meeting your guide, and attaining your National Park entry ticket. The first hour's journey, we will pass the trip in tropical forests, with open views of the rich life of Pauna and Plora, such as enourmous trees, beautiful orchids, wild birds and butterflies, and many more plant and animal species that we can meet here. If we are lucky, we may even see a black monkey known as langurs. The woods through which we travel will be bathed in sunlight, after which we will walk to post 2, Montong SATAS shelter (1,500 m). Which is where we shall rest and gather our energy.And waiting porters will prepare soft drinks, crackers and fresh fruits, such as banana, and pineapple to be served there.
Depending on your preference and weather conditions, the night's camp is made either in the forest at post 3, Mondokon Lokak (2,000m), after about 2 hours climb from Pos 2, or we can continue the ascent (after break and lunch at Pos 3) for another couple of hours through grassy meadows to Senaru Crater rim (2,641m). During the trip to post 3, we will remain in the middle of the tropical rain forest. The first 25 minutes we will pass post 3 at Mondokan Lokak, then out from the tropical rainforest, to walk on the Savana of the hills, with their open views. Then the trail steepens, but the beautiful scenery over Senaru village offers a chance to break, at a place we call Cemara Lima, before we go further to the Senaru Crater Rim (2.641m) with about a one hour trip to get there. The crater rim has sweeping views across the lake Segara Anak (2,000m), to the summit of Mt. Rinjani. On a clear evening Gilis Island, Bali and Mt. Agung can be seen to the west. We camp, enjoy dinner, and spend the night here.
Day 2
06.30 am – 08.00 am Breakfast and Relaxing, down to the lake Segara Anak (2,000 m) within the Rinjani crater. The trek route at this point is steep and rocky. Your guide and porters will assist, and give you extra attention. Mt. Baru (2,351m) is an island in the lake and an active volcano, last erupting dramatically in 1994. We move down the ridge passing numerous Edelweiss plants, Bunga Abadi, to the crater rim camp for a well-deserved lunch. It takes two to three hours down the steep trail, to get to the crater lake and overnight here. The rest of the day is spent relaxing, swimming in the lake, and exploring the caves and hot springs, believed to have healing powers.
Day 3
We'll relax around the Lake Segara Anak, enjoy breakfast and morning break at your leisure. Then at 13.00pm, lunch and preparation to leave the lake and climb for three hours up to Sembalun Crater Rim (2,629 m). Then enjoy a tea break, a lovely view of the sunset, and view Segara Anak Lake from Sembalun Crater Rim. We will then enjoy dinner, and camp overnight at Sembalun Crater Rim Camp.
Day 4
At 02.30am we will enjoy a light breakfast, and perform the necessary preparations for the hard, three-hours climb to the summit (3,726 m). Once there, enjoy the feelings of pridem of satisfaction, and the amazing sunrise views across the Wallace Line to Bali, Mt. Agung and Sumbawa. At 06.30am, an optional tour departs the summit for Sembalun Crater Rim Camp – walking time approx 1,5 hours. After a well prepared breakfast, we'll explore a gentle ascent, walking amidst the pine-like Casuarinas; known locally as "Cemara", perhaps seeing evidence of wild pigs and the long-tailed grey macaque monkeys. Resting at post 3, Pada Balong (1,800 m), we'll enjoy a lunch break here. We reach post 2, Tengengean (1,500 m) to enjoy the beautiful views of Mt. Rinjani summit (3,726 m). Then the gentle walk continues through open grassland, used as cattle grazing by local people, to the Resting shelter at post 1, Pemantauan (1,300). The trek ends at Rinjani Information Center at the road head in Sembalun Lawang, where the car is waiting to take you back to your hotel and your next destination.
Price includes of Mount Rinjani
Pick up and transfers
A night accommodation in Senaru
Trekking guide Porters
Foods and drinking water on the trek,
Tent, toilet tent, sleeping bags, and mattress
Entrance fee for the national park
Price excludes of Mount Rinjani
Head lamp /hand torch (summit)
Small bag pack/daily pack
Trekking shoes
Digital camera and Handy cam
Trekking jacket
Extra porter for own luggage
Long pants/trousers
Short Pans for nature sauna
Any Personal Medicine
Small Towel
Plantation Seeds for your Green protection help
Tips for guide and porters